Mission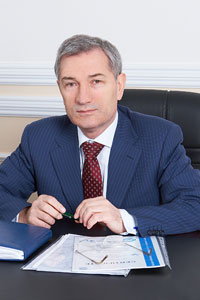 UNIHIMTEK is a research, development and production group of companies founded more than 20 years ago. We have since evolved from fundamental science to its practical application, becoming one of the first Russian companies producing hi-tech Ograx® fire protective materials, and a reliable business partner. We have chosen the only correct and challenging path of producing commercially viable fire protective materials locally in Russia.
UNIHIMTEK of today is a growing company with powerful intellectual resources and extensive experience in the development and production of fire protective materials.
One of the main principles of UNIHIMTEK is the desire to work closely with our customers to address their challenges, as their success is instrumental for ours. Highly demanding customers help spearhead new ideas and innovative technical solutions.
We are aware that we have to move on, and we continue fundamental research in the area of modern materials, and work on developing new Ograx® products.
Our experts are ready to work with you on a comprehensive fire protection program for your facility; they are available to advise and train your staff in techniques and methods of working with our materials. Our strong scientific and technological background allows us to solve any unique tasks of increasing fire safety, analyze and propose the most effective and rational structural solutions, including the development and testing of new fire protective materials and products.
Victor V. Avdeev, Ph.D.
General Director UNIHIMTEK
Professor and Chair of the Chemical Technology & New Materials Department of Lomonosov Moscow State University