Design of fireproof works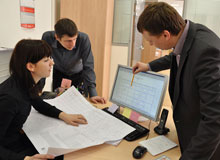 Design and engineering department of RPA UNIHIMTEK carries out a full cycle of designing fire protection of buildings and constructions of any purpose and at any level of complexity.
Experienced specialists will review and finalize the section of fire prevention measures in design documentation for construction of any facilities, including especially dangerous and technically complex ones.
RPA UNIHIMTEK experts will assist in development of special technical specifications to comply with regulatory requirements in the field of fire safety.
For objects of high degree of difficulty it is possible to develop special technical conditions for implementation of fire-retardant treatment.