Fire protection works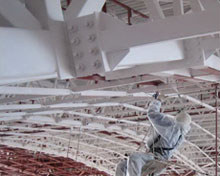 UNICHIMTEK application service provides high quality fire protection works for any materials, structures and items.
Qualified personnel, availability of up-to-date technical basis and proven technologies of fireproof treatment allow UNICHIMTEK to execute fire protection works in compliance with fire safety requirements at the facilities of any level of complexity.
UNICHIMTEK application service has provided fire protection for more than a half of thermal power plants' units and nearly all nuclear power plants having been put into operation in Russia in recent 10 years.